Reaching Up to Worship – Reaching Out to Serve
Parish Vision – "Together we will build an atmosphere of faith in which the fruit of the Spirit will abound and draw others to Christ."
St. James

Monday:
8:30 AM
Wednesday:
8:30 AM
Saturday
5:00 PM
Sunday
9:00 AM
St. John

Monday:
9:00 AM
Friday:
8:30 AM
Sunday
11:15 AM
St. Margaret Mary

Tuesday:
7:00 AM
Thursday:
7:00 AM
Sunday
10:45 AM
St. Patrick

Tuesday:
12:00 PM (noon)
Thursday:
12:00 PM (noon)
Saturday
5:00 PM
Sunday
9:00 AM
Reconciliation (Confession) Times:
St. James

Tuesday 5:15 p.m. – 6:00 p.m
Saturday 4:00 – 4:45 p.m
St. John

–
Saturday 11:00 a.m. – 11:45 a.m.

St. Margaret Mary

–
Saturday 2:00 p.m. – 2:45 p.m.
St. Patrick

Wednesday 5:15 p.m. – 6:00 p.m
Saturday 4:00 – 4:45 p.m.
What's happening: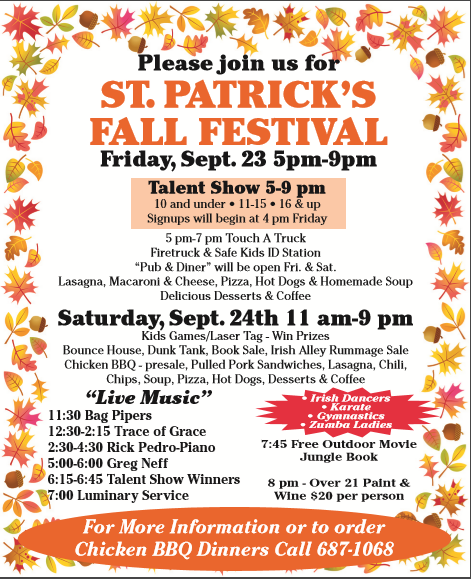 (More information below – Use the calendar to add to your Google or Apple calendars)
St. Patrick's Fall Festival
Homeschool Support Group Planning Meeting @ St. Patrick
Join Us For Breakfast @ St. Patrick
Harvest Dinner - St. Margaret Mary
Polish Dinner @ St. John's Hall
Ultreya Meeting
Ultreya Meeting Calling all Cursillistas! Save the date for our next Group Ultreya meeting on Sunday, October 30th at 1 pm in St. Patrick's hall. More information to follow.
Splendors '16
Contact your "Splendor Squad" Rep!
St. James— Judy Stewart
St. John—Ruthanne Orth
St. Margaret Mary—Evelyn Bale
St. Patrick—Cindy Blackwell, Cindy Farabaugh
These ladies are working to make the Splendors Auction not only a profitable event but a FUN evening out! Please ask them what YOU can do to help make this PARISH-WIDE fundraiser a SUCCESS!
St. Val's
September 26, 2016 – February 6, 2017
80 Winners ~ 4 Winners Per Week ~ 20 Weeks
Weekly Prizes: $30, $20, $15, $10 $40 per person $2 a week or $40 up front
* * New This Year: CASH ONLY
* * (Per New York State Gaming Commission – NO CHECKS – St. Val's is considered a game of chance/raffle) Put your registration form and cash in an envelope marked "St. Val's" and place it in the collection basket or drop it off at the church office. Questions?
Call the church Office: 607-687-1068
Daily Prayer of the Month
Heavenly Father (Abba),
We pray in the month of September that as we labor, we remember that work is a gift from You and we honor You as we do it. We also pray as our children return to school, that they be attentive to what is taught and that they respect their teachers. We ask Your assistance to teachers to whom we entrust our children, that they have the necessary dedication and patience. Finally, as we come to the end of Summer, may we thank You for its leisurely warmth and look forward to the continued beauty of Your creation as we begin Fall and its colorful display of Your majesty. In Jesus' name we pray,
Amen.
Please pray this prayer along with our Prayer Partners today and throughout this month.  If you have a suggestion for prayer intention please let us know at hawaii2343@yahoo.com
Catholic Campaign for Human Development
Next week's collection for the Catholic Campaign for Human Development (CCHD) needs your help. CCHD was founded to break the cycle of poverty in the United States by funding organizations that help individuals help themselves. With the tradition of improving education, housing situations, and community economic development, CCHD continues to make a positive impact in communities nationwide. Your contribution will defend human dignity and reach out to those living on the margins. Please give to the CCHD Collection.
Living Rosary at St. James
The Rosary & Altar Society of St. James will sponsor a Living Rosary on Thursday, October 13 at 7 p.m. All parishioners are welcome and encouraged to attend this special devotion to Our Blessed Mother, presided over by Deacon Michael Donovan. Light refreshments will follow in the church hall. Handicap accessibility is available on the west side of the church.
Diocesan Respect Life Sunday Mass
Bishop Matano is celebrating this Mass in honor of 20 years of Project Rachel ministry in the Diocese of Rochester. He will bless and commission all who are involved in Project Rachel. There will be a reception afterward in appreciation of Fr. James Hewes, whose vision and 18 years of Project Rachel leadership were instrumental. Mass is Sunday, October 2 at 2:00 PM in Sacred Heart Cathedral, 296 Flower City Park, Rochester. All are welcome!
Welcome Fr. Bruce and Brother Dave
We welcome Father Bruce Brylinski and Brother David Henley of the Glenmary Home Missioners, who will speak at all the Masses this weekend on behalf of the home mission work of Glenmary priests, brothers and coworkers.
Father Bruce, a native of Buffalo, NY, was ordained to the priesthood in 1983. He has served at Glenmary's missions in Okolona, MS, Grayson and Vanceburg, KY, Louisville, GA and Waldron, AR. He is currently the director of Glenmary's Candidacy Program in St. Meinrad, Indiana.
Brother Dave, a native of Columbus, Ohio, professed his Final Oath to Glenmary Home Missioners in 2006. He has served in Glenmary Missions in Georgia, Arkansas and Kentucky. Brother David is currently serving as Glenmary's Vocation Director at Glenmary's Headquarters in Cincinnati, Ohio.
This special collection is our opportunity to support evangelization in the home missions.
Public Square Rosary Rally
St. John's church in Newark Valley will host a Public Square Rosary Rally on Saturday, October 15, at 12:00 noon at the Mary statue in front of the church. This Public Square Rosary, sponsored by America Needs Fatima, will be one of over 14,000 rallies that will take place all across the United States on that day. The purpose is to have Catholics all over the country join together in public prayer, offering reparation for the sins and offenses committed against the Immaculate Heart of Mary and to fervently pray for the conversion of the United States. Please join us on this important day.
Attention Business Owners and Generous Parishioners!
David Savich will be working on updating the advertising sponsorships for our bulletin during the week of October 3rd. Please consider advertising in our bulletin.
Advertisements can be purchased for a business, family, or a sponsor ad can be purchased for thanking parishioner patronage, supporting community service organizations like emergency pregnancy counseling or the battered women's shelter, etc. We need and appreciate your help.
If you are interested or would like more information, please call David Savich directly at 607-624-9580
Thank you in advance for your generous support, and please patronize our advertisers!
40 Days of Prayer and Fasting
You are invited to join other Christians around the world for 40 Days of prayer and fasting to end abortion. Come join others in this peaceful prayer effort at 149 Vestal Parkway West (across from TSC). The 40 Days will begin with a Candlelight Vigil on Tuesday, September 27 at 6:30 pm led by the Friars of the Immaculate. Please contact Gabe Teoli 607-226-2816 if you would like to organize a group to participate in the Vestal Campaign. For more information, please visit: 40daysforlife.com
Prayer Requests:

Please Pray for:
Richard Antioch
Dick Bierl
Marylou Conklin
Teresa Costello
Kathleen Watts-Decker
Leonard Dence
James Dubinsky
Moriah Harrington
Stuart Hill
Art Hilliard
Natalie Hilliard
Brody Hines
Larry Kasmarcik
Barbara Keener
John Keener
Penny Kenderish
Walter Krawczyk
Chrissy Krebs
Isla Landon
Gabriella Laubisch
Derek Lee
Ann Leonti
Tim McGovern
Jim Mertson
Don Murch
Grace Murch
Tim Nannery
Violet Ray
Michael Sayah
Candy Stanton
Denise Sult
Steve Supa
Anne Thomas
Steve D'Urso
Alicia Vasilow
Gloria Ward
Jody Zevan
Pray for our Troops:

"Lord, hold our troops in your loving hands. Protect them as they protect us. Bless them and their families for the selfless acts they perform for us in our time of need. Amen."
Please Pray for:
Craig Basel
Scott Berghorn
Don Bolduc
Matthew Cascarino
Jennifer Leary Dean
Megan DeKay
Casey Ford
Chad Halliday
Matthew Harford
John Harrington
Matthew Harrington
Travis Holland
Patricia Mallins
Colton Miller
Alexander Pannone
Travis Phillips
Paul Stauder
Jon Tennis