St James
503 Clark St
Waverly, NY 14892
History of St. James
The first Catholics came to settle in the village of Factoryville (Waverly) around 1835 to 1838.  Missionary priests from Northern Pennsylvania and Southern New York came at intervals to minister to the spiritual needs of the people. The first Catholic priest in the area was Rev. J. V. O'Reilly in 1842. He would meet Catholics in the Athens area for Mass.
In 1843, a Binghamton mission, which included Owego, Ithaca, Watkins Glen, and the Waverly Areas, was formed and the Rev. Andrew Doyle was assigned to the mission.
In 1844, the Owego mission was formed and this included Waverly.  Rev. John Sheridan was in charge of the mission. With the completion of the Erie Railroad in 1849, the Catholic population grew rapidly. Under the direction of Rev. James McManus, it was decided to build a church in Waverly. Parishioners James Chin and John Sliney set out to raise the necessary funds. Owen Spaulding donated a lot on Erie Street east of Pennsylvania Avenue and the first Catholic Church in Waverly was dedicated on July 7, 1853 at a cost of $800.
This church soon became too small for the congregation. In 1869, a lot on the northwest corner of Chemung and Clark streets was purchased. The new church was dedicated in 1871 with Rev. James Rogers as pastor. The cost of the church was about $8,000.
In 1881, Waverly became a separate charge from the Owego mission. The present rectory was built in 1882 under the direction of Rev. John Brady, who wanted a suitable residence.
In 1893, a new pastor, Rev. F. J. Naughten remodeled the church and the residence. Members of the congregation gave statues of the Sacred Heart, St. Anthony, and Blessed Virgin and St. Joseph.
On March 17, 1912 the second Saint James Church was completely destroyed by a fire.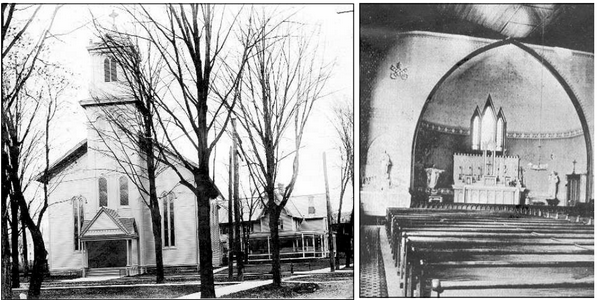 The second St. James Church was dedicated on September 1, 1871. It was destroyed by fire on March 17, 1912.The Rectory was built in 1882. Above right is church interior.
The present building replaced the burned one, and it was finished and dedicated November 23, 1913, under the pastorate of Monsignor James Griffin.
The current St. James Church was dedicated on November 23, 1912 under the pastorate of Monsignor James Griffin.
Eleven spectacular stained glass windows were imported from Germany. They are: The Immaculate Conception, with smaller panels at its side of Luke, John, and St. Paul; The Annunciation a gift of the Altar and Rosary Society; The Visitation, The Nativity, and nearest the entrance, The Presentation. The large window on the east side portrays The Resurrection with smaller panels of Mark and Matthew and St. Peter. Beyond this is The Ascension, The Assumption of the Blessed Virgin Mary, and at the rear of the church, The Sacred Heart of Jesus, The Sacred Heart of Mary, and to the west of the transept, St. John the Baptist and St. John the Evangelist.
Fourteen beautiful Stations of the Cross were donated by parish families as were new statues of the Sacred Heart, St. Joseph, the Blessed Virgin and St. James the Apostle, which stands in a small shine high in the dome.
In 1949 Rev. Robert J. Fox added a social hall in the basement.
Through the years the church and the rectory have been remodeled and redecorated.
In 1954 under Rev. G. Stuart Hogan, St. James Catholic School was opened with eight grades. The Sisters of St. Joseph came to Waverly to staff the school and supervise the education of the children.
The parish purchased the house at 153 Chemung Street. It was renovated and became the convent for the Sisters of St. Joseph.
Due to a lack of funds and decrease in enrollment, the school was closed in 1988. With the closing of the school, the convent was sold. Later a house at 6 Cadwell Avenue was purchased and became the residence of several sisters who served the parish.
In addition to the church, rectory, and an adjacent property, St. James Parish owns and maintains St. James Cemetery, which was probably purchased around 1860. Al Kraus has served as caretaker of St. James Cemetery since 1953.
Many parish organizations have enabled St. James Parish to flourish spiritually and financially through the years, such as the Holy Name Society, Altar and Rosary Society, Catholic Daughters, Knights of Columbus, MCBA, LCBA, School Parent Club, and Sodality. Since Vatican II parishioners have taken an even more active role in Church governance and ministry through the St. James Parish and Finance Councils, Social Ministry Committee, and Synod.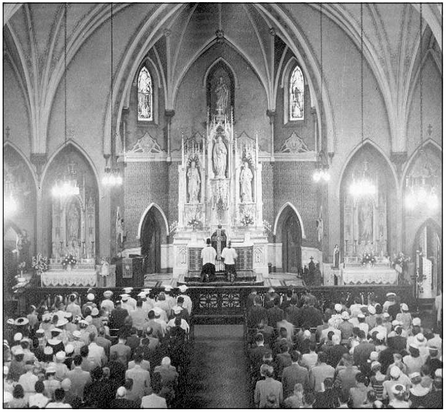 Graduation Mass before Vatican II Rite and sanctuary restorations (C.1956).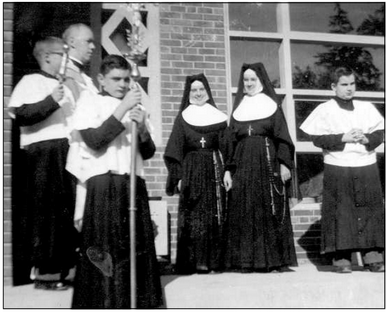 Rev. G. Stuart Hogan blesses cornerstone of new St. James School on August 22, 1954 as Sr. Matilda, the school's first principal, St. Mary Lourdes and servers Robert Novadomski, Joseph Fravel and Michael Nolan assist.
The St. James School Band was a source of pride to the entire parish.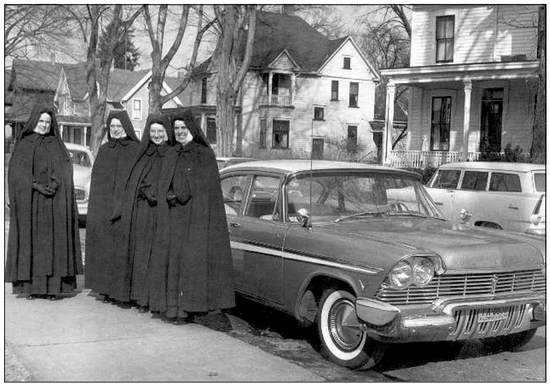 Sr. Francis Inez, Sr. Joan Thomas Gutberlet, Sr. Marie DeSales, and Sr. Marie Michelle Peartree pose with the "Car for the Sisters" purchased for the St. James Convent. The fund drive was initiated in 1959 by Mr. Harry Schreck.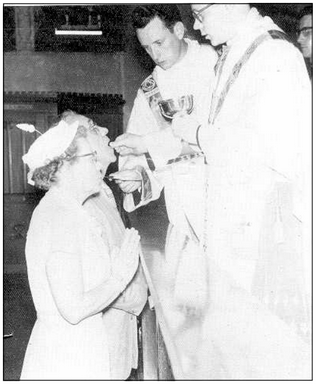 On June 16, 1957, Fr. Thomas Watts, a parishioner of St. James gave his parents communion at his first Mass following his ordination. Waverly native Fr. Joseph Hogan served as deacon of the Mass.
Vocations to the Priesthood, Diaconate and Religious Life
Many young men and women from St. James Parish have entered the religious vocations as priests and sisters. Among those that nurtured their vocations at St. James are Rev. John D. McCarthy S.J., Rev. John Mahoney, Rev. Edward L. Betowski S.J., Rev. Bernard L. Hickey, Rev. Joseph Hogan, Rev. John D. Hurley, Rev. Bartholomew J. O'Brien, Rev. Thomas J. O'Brien S.J., and Deacon George Welch.
Women from St. James include: Sr. Christine (Margaret Falsey), Madam Ann Hoban (Madams of the Sacred Heart), Sr. M. Beatrice (Nora Gibson), Sr. Loretta (Francis Daley), Sr. Beatrice (Mary Murphy), Sr. M. Liguori (Helen Dulea), Sr. Rose Alma (Madalene Hayes), Sr. Girard (Anna Carrol) and Sr. Carmen (Laura Almo).
Pastors, Priests, Pastoral Leaders
Through the years many priests have served St. James as pastor and assistant pastor.
The pastors, priests, Pastoral associates and pastoral administrators who have served the Waverly Community and St. James over the past 150 years have included: Rev. J.V. O'Reilly (1842), Rev. Andrew Doyle (1843), Rev. John Sheridan (1844), Rev. W. McBride (1847), Rev. John Creedon, Fr. McCabe, Fr. Mallon, Rev. James McManus (1852-1858), Rev. Nicolas Bryne (1858-1860), Rev. Joseph Butler (1860-1862), Rev. B. Cooney (1863), Rev. Francis Clarke (1863-1871), Rev. James Rogers with Rev. Joseph Leddy (1871-1877), Rev. John O'Mara (1877-1881), Rev. John Brady (1881—1885—first resident pastor), Rev. Edward McShane (pastor 1885-1893), Rev. Francis J. Naughton (pastor 1893-1901), J.J. Moriarity (pastor 1901-1907), Rev. James Griffin (pastor 1907-1920), Rev. James J. Veale(1920), Rev. Edward J. Dwyer (pastor 1920-1934), Rev. Edward Lyons (pastor 1934-1945), Rev. J.B. Keenan, Rev. Francis E. Donaghue, Rev. Edward Dempsey, Rev. Robert J. Fox (pastor 1945-1950), Rev. Jerome  'Mara, Rev. John Francis Duffy, Rev. James J. Maroin, Rev. Stuart Hogan (pastor 1950-1961), Rev. Joseph J. McCarthy, Rev. Guy J. Wertz, Rev. Lawrence W. Sanson, Rev. Charles McCarthy, Rev, Albert V. Ryan, Rev. Joseph O'Connell (1961-1967), Rev. John A. Morgan (pastor 1967-1978), Rev. Edward B. Zenkel, Rev. James Kelleher, Rev. Richard Shatzel, Rev. Edward J. Foy (pastor 1978-1983), Rev. Thomas Watts (1983-2001), Deacon Ray Defendorf (pastoral administrator 2001-2003), Rev. Malachi Eloo Nuwoso, Rev. Patrick VanDurme, Rev. David Bonin, Rev. Eugene Dobosz, and Rev. Emanuel Narty.
Sr. Joann Cullen, Sr. Agnes Catherine Battersby and Helen Cooney have served at St. James as pastoral associates.
Lay Staff and Volunteers
Lay persons who have served the ministries of St. James include long time parish secretary, Sharon Lovell, custodian Joe Parmenter, faith-formation coordinators Sr. Julia Clare, Ellen Porcelli, Leslie Fagan, and Deborah Smith Kennedy, Volunteer Coordinator Elsie Fraboni, youth minister Becky Sutryk and secretary Stacy Shepard. The musical talents of Church Organist Bryce Van Noy and singer/guitarist Bill Soprano have assisted our congregation in worship.
Among the many volunteers who have devoted untold hours to St. James are: Elizabeth Alamo, Charlie and Sue Maloney, Margaret "Peg" Raguette, Finance Chairs John Cocco and "Sim" Simiatis and Joseph Viselli's Building and Grounds Committee.
Benefactors
Throughout our history, numerous parishioners have generously remembered St. James in their wills. These gifts have supported our ministries and restored our facilities. Recent major benefactors have included Mary Kraft and her sister Anna Garrison, Irene Sisto, and John "Jake" Snell. We pray that this generous spirit will continues as we continue to serve God and neighbor as Blessed Trinity Parish.
St James the Apostle (the Greater):